I started playing hockey in 1986 when I came to UK. I didn't know even how to hold a hockey stick. I was introduced to the sport by a family friend from Kenya. I started playing every Sunday at a local Park called "Plashet Park" and in those days the council used to mark the pitch for us.

We used to be about 15-16 boys/men playing there. Soon, I started playing with them regularly every Sunday regardless of the weather (snow, rain or hot) you would find us there between the hours of 2:00pm and 7:00pm. At times when it used to snow in Winter, we used to spend about 15mins removing all the Snow/leaves that had fallen onto the pitch before starting to play. (Crazy ! - to think of it now) After 16 years I still go every Sunday to play at the same place with the same people - and the enjoyment is the same and feel as young ever.

In 1987, we entered into a local Hockey Festival (Greenwich Hockey Festival). It was my first ever tournament and I didn't know how to play but the team ended as Runners up in the final and I still have that as my 1st ever trophy.






Above my team-mate (Gurbinder) :Left -

Blue-shirt

& myself : Right -

White-shirt



I then started playing for a local Hockey Club (Redbridge & Ilford Hockey club) in their 3rd XI - until we had a new coach at the club Martin Foxall. He saw me playing one Saturday and then I started going to training and soon found myself as a substitute for the 1st XI - which was something that I was proud of - since in such a small space of time I got into the 1st team of highly classed players. I then got the man of the match award in the Greenwich Hockey Festival afterwards in the final where we lost to Lions Hockey Club on Penalty Strokes. We named our team Plashet Hockey Club, because we are a summer side and the team is made up of people who come to the park on Sundays to play - everyone is welcomed.

It might seems like a crap place but alot of famous International players have played with us on this park, players from Pakistan, Malaysian National side, Poon Fokl Loke - who was selected to play for World XI and is current under 21 coach of the Malaysian Team. So we call this place the

Road to success !!



I have to say that I owe alot to Martin Foxall, since its because of him that I am the player I am today. He made is train hard and made me a better player at the end of it and I thank him.

I try to pass on any tips etc to any younger players because it was something that some people didn't give me when I started playing and all thanks to

martin, Dad and Mum for letting me go running/ training / missing family event to go hockey etc.
Now I take time to train the younger boys & girls to play hockey (kids under 17) and have enjoyed it. I have managed to get a team setup who now will play their first season in the league.



<![endif]><![if !vml]>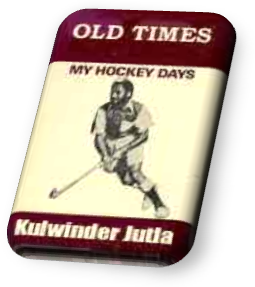 <![if !supportLineBreakNewLine]>
<![endif]>